We design our menus to ensure all children have 5 seasonal fruit or steamed vegetables a day. We aim to source our food locally.
Mealtimes are sociable occasions and our staff will enjoy a meal with the children. Together they shall tidy their plates away, wash their hands & brush their teeth after they have finished.
Each child is encouraged to assist with setting up the table with their own placemats for mealtimes, serve their own portion of food. They have a smaller form of cutlery to eat with.
Every child has their own water beaker/cup which they may drink from at any time. These are refreshed and offered throughout the day.
We involve you to assist us with designing our menus, so we may incorporate childrens favourites from home, which in turn ensures our menus are diverse and considerate to all dietary requirements. We strive to be a nut-free nursery.
The menu's are rotated to give children the opportunity to taste a variety of different foods over a four week cycle.
We have a weaning menu for younger children.
We also offer Birthday Fruit Platters (see example image) for a small fee. Please ask for more details.
We received 5 stars for our last food hygiene inspection
Current Menu Spring 2023
Vegetarian option available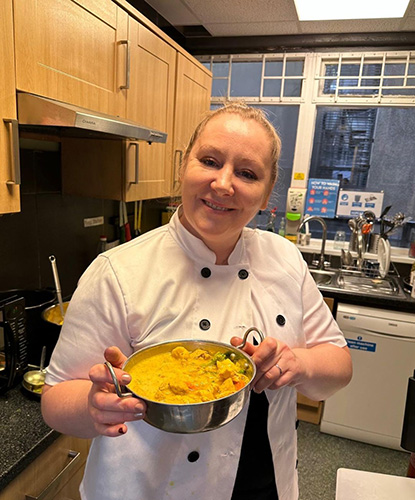 I am Magdalena Krajewska, I come from Poland and I live with my teenage daughter. I used to work with children but now my passion is cooking. I like cuisines from all over the world and my favourite food is soup. I enjoy cooking for your children.